Podcast: Play in new window | Download
http://narrationbygeorge.com/feed/podcast/ RSS | http://narrationbygeorge.com/subscribe-to-podcast/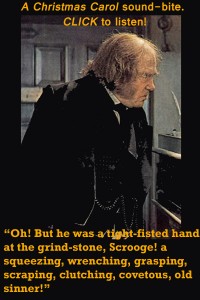 This week features the last of the recasts.  We look back to a very early podcast with a lot of imagination.  How about an interview with Ebeneezer Scrooge?  You remember Scrooge!  He's the curmudgeon whose greed and avarice hardened his heard against all mankind.  But, he's visited by three spirits who change his heart and, thus, his actions.  What if you could hear from him now?  I take a stab at this possibility by imagining an interview with the reformed Scrooge!
Yes, this podcast was originally a "Christmas season" episode. However, this story is really not about Christmas; it is about redemption.  And redemption is a universal theme good at any time of the year.  So, my production of A Christmas Carol is available for sale year 'round.  Go to my page for the book and listen to some samples.
Here are the links for this podcast!