A Christmas Carol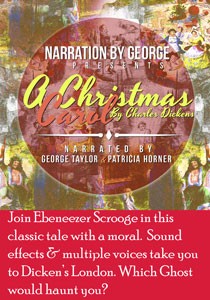 I am proud to announce a new production of the timeless classic tale of restoration and renewal by Charles Dickens – A Christmas Carol.  Come listen to my take on the character of Ebeneezer Scrooge, all the Christmas Ghosts – past, present, and future – and the characters who have helped to shape the life of Scrooge up until this Christmas Eve.  Trish Horner assists with female voices.  A fun tale with a great message.
Now available as a download!
This story is also available as an audio play. Like an old radio show, you'll hear actors portraying the characters. A narrator and sound effects to take you deeper into the story. Just click here to listen to this story FREE.
| | | | |
| --- | --- | --- | --- |
| | | | |
| | Get this books FREE from audible.com | Click to purchase from Audiobooks.com | Click to purchase from the iTunes Store |
---
| | | | |
| --- | --- | --- | --- |
| | | | |
| Who is Scrooge? | Merry Christmas from Scrooge's nephew | Scrooge's response to charity | Jacob Marley haunts a door knocker |
---
| | | | |
| --- | --- | --- | --- |
| | | | |
| Jacob Marley visits Scrooge | Jacob Marley's charge | Scrooge meets the ghost of Christmas past | Scrooge's fantasy |
---
| | | | |
| --- | --- | --- | --- |
| | | | |
| Fezziwig's Party | Scrooge meets the ghost of Christmas Present | A Cratchit Christmas | Scrooge meets the ghost of Christmas Future |
---
| | | | |
| --- | --- | --- | --- |
| | | | |
| Scrooge at his own grave | The reformed Scrooge | | |