Podcast: Play in new window | Download
http://narrationbygeorge.com/feed/podcast/ Android | RSS | http://narrationbygeorge.com/subscribe-to-podcast/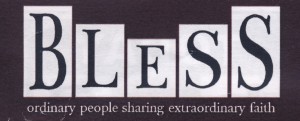 This podcast stays in the realm of Bible teaching this week – or rather faith sharing. If you are a follower of Jesus Christ, how easy is it for you to share with others your faith in Him? For many, I would say that it is probably difficult. My home congregation is trying to make it easy for everyone to share the story of their faith. So, I am pleased to share the first of several messages about sharing. Today, we learn how being a BLESS-ing can help you share your faith in Christ. BLESS is an acronym to help you remember some basic steps in sharing.  Take a listen for more details!
---
The scriptures used today and some notes are below:
God, how you want me to bless the people and the places that you've sent me?
Don't talk, but listen to people – their struggles, their pains in the places that God has sent you
Eat. Having a meal with people builds relationships.
When the time is right, jump in.