by Regina Puckett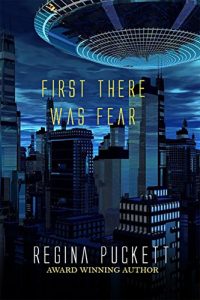 It's just another day at work until the dull calm is shattered by a spacecraft that blackens the sky as far as the eye can see.  Facing an unknown attacker that is alien to everything you know and understand is a terrifying experience. Although Ronni is filled with terror, she fights to escape and when that fails, she fights to survive. She faces the pain and fear with courage and, to her surprise, faces it with the help of the one she least expected to be by her side.
READERS SAY:
This shorty is very creative, intense, interesting, and frightening. Go ahead, read this … you, too, have the strength! ~N.S.
First There Was Fear by Regina Puckett is a short story that reaches into the primal regions of your fear center. This is an inspiring story. The author has written an insightful tale and done it very well. An excellent read that I highly recommend.  ~Susan Sewell for Readers' Favorite
Coming in January 2017 to audible.com and iTunes.