by Regina Puckett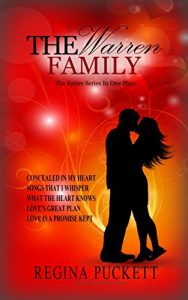 A compilation of all the Warren family novels.  All of my Warren family women are strong-willed. No matter how many times they face defeat, they get back up stronger and more determined than ever to let nothing stand in the way of their happiness.
Concealed in My Heart – Charity's life is torn asunder by betrayal. When she falls in love with her best friend and costar, she tries to conceal that love, because she knows from past experience it can only lead to more pain and heartbreak.
Songs that I Whisper –Suzette witnesses firsthand all of the temptations faced by Seth as he and his country music band perform on the road. The last thing she wants is a man who is tempted on a nightly basis by half naked women. But there's something about Seth that captives her heart and makes her want to believe that he only wants her.
What the Heart Knows – After escaping a rape attempt, Emily hides away in her old family home until her sister's best friend fakes a health crises to lure her into visiting him at his country estate. It doesn't take long for Emily to tell Bill about her fears and the two of them finally admit to loving the other for years. It sounds like a happy ending – but nothing is ever that easy.
Love's Great Plan – Even though Coty and Amanda have never actually said the words, they both know in their hearts they love each other. When Coty kills a teenager in the line of duty, all that they thought they had is jeopardized by the media frenzy that follows in the aftermath of the killing. It will take another tragedy to forge their commitment to each other and show them that love always has a plan.
Love is a Promise Kept – Even at age four Mary Elizabeth recognizes her soul mate, so with the innocence of youth, she proposes to ten year old Gregory. Gregory could have broken her heart, but he promises to wait for her. What happens next is the stuff fairy tales are made of – if they were real – and they are.
Now Available from these sites:
| | | |
| --- | --- | --- |
| |   | |
| Click on this link to start your Audible subscription and get this title for FREE | Amazon | iTunes Store |