by Regina Puckett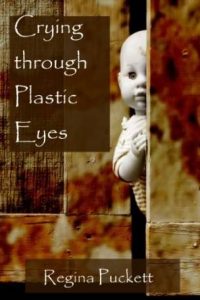 What do you get when you add a messy divorce, a room filled with creepy dolls and a six year old? You get two days of living in hell.
LISTEN TO A SAMPLE:
READERS SAY:
It just totally blows me away that this author can take the most common place every day item and make it as creepy as all get out! ~EK
This short novella starts very matter-of-factly, but quickly takes off into the realm of horror.
This story, by Regina Puckett, is truly one that will give you nightmares! She seems to have a way of taking a relatively mundane situation and turn it into a thrilling, surprising, and truly unique tale. ~MA

You may want to sleep with your lights on! ~M
NOW AVAILABLE FOR DOWNLOAD AT THESE SITES:
| | | |
| --- | --- | --- |
| | | |
| Get this books FREE from audible.com | amazon.com | i-Tunes Store |