Concealed in My Heart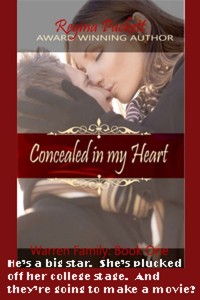 In this sweet romance by Regina Puckett. Charity Fields has everything she has ever wanted. She has just married her childhood sweetheart and has landed her first leading role in a major motion picture. But soon a terrible lie and a heartbreaking betrayal turns her life upside down, and she has to rethink her entire future.
Through more loss and betrayal, Charity discovers that she has strength she never knew she had, and even if she has to keep her new love concealed in her heart, she will survive no matter what.
Concealed in My Heart has won a Reader's Favorite Book award and was a runner in the 2014 MARS Social author-of-the-year competition.
4.8 STAR RATED BOOK:
George Taylor's enunciation was clear, and the variation in his voice made it easy to visualize the different characters. Having listened to many audio books, I found Mr. Taylor's performance to be among the more effective narrations. His overdubbing at one point, when two spoke at the same time, was a creative touch and a surprise. Overall – an enjoyable listening experience! -Bonnie

The narration was very good. I wasn't sure what I thought of a such a booming male voice reading a female perspective book, but he pulled it off well. Each of the characters had a distinctive voice and personality. -Ryan

This is one of the best romance novels I have ever read. -RSD

I absolutely loved this story, I fell in love with the characters! -KS

LISTEN TO A SAMPLE
AVAILABLE AT THESE SITES
Get this book

FREE

at audible.com
amazon.com
iTunes
| | |
| --- | --- |
| Hollywood | Murfreesboro |
| movie | Nashville |
| college | Dallas |
| star | Los Angeles |
| romance | Regina Puckett |
| love | |
| ingenue | |
| baby | |
| abandoned | |
| marriage | |
| friendship | |