Amputation: Emotional Recovery
Losing a limb will impact every as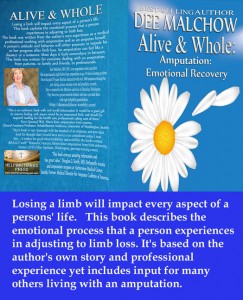 pect of a persons' life.  This book describes the emotional process that a person experiences in adjusting to limb loss. It's based on the author's own story and professional experience yet includes input for many others living with an amputation. A person's attitude and behavior will either promote or impede progress. An amputation can feel like a disaster or a nuisance. Most days it feels somewhere in between.
Dee Malchow, MN, RN, is an amputation nurse specialist. She experienced a right below knee amputation at age 19 from a boating accident. She received her Bachelor of Science and Masters Degree in Nursing from the University of Washington. Over the past 50 years Dee has interacted with over 3000 amputees through her job at a Trauma Center, sports (skiing & soccer), mission work (Sierra Leone, W. Africa), and prosthetic research. Dee is married to Jim Malchow, and lives in Shoreline, Washington. They have two grown married children who have provided them with eight delightful grandchildren.
"With clarity, wit and an accessible style, limb salvage specialist Dee Malchow (herself a high-functioning lower extremity amputee) provides a "how-to" guide for patients (and their families) confronted by the possibility — or the established fact — of limb loss. As an amputation surgeon myself for the past 40 years, how I wish I had had available this handbook to help educate, calm, reassure and (believe it or not) even amuse my amputation patients! Kudos to Dee Malchow for providing absolutely essential insight into this terribly fraught clinical scenario."
Kaj Johansen MD, PhD, FACS, Chief of Vascular Surgery at Swedish Medical Center, Seattle
"I have just read this book with great enjoyment and interest. It brought back a flood of great memories, as I was a colleague of Dee throughout her time at Harborview. She helped me perfect a diurnal pain medication regime which kept patients asleep at night and awake and interacting in the daytime. I also came to realize she was spending extra time counseling new amputee patients at night. We conceived the idea of an amputee clinic and support group with her as the leader. The hospital administration soon realized the value of Dee's program and 'the rest is history…' as they say. Everyone who deals in any way with patients who have incurred a disfiguring and/or disabling injury will find reading this book time very well spent."
Sig T. Hansen Jr. MD, Professor Emeritus, University of Washington, School of Medicine; Director of Sigvard T. Hansen Foot & Ankle Institute, Harborview Medical Center, Seattle
"The book conveys amazing information and has great value."
Douglas G. Smith, MD, Orthopedic trauma and amputation surgeon at Harborview Medical Center, Seattle; Former Medical Director for Amputee Coalition of America.
"Your book is very thorough with the mindset of an amputee, and provided food for thought that I would have never even considered unless I read this. In addition, I loved that you had backup quotes from other amputees recounting their experiences—it makes for good ethos/credibility and solidifies your content REALLY well!"
Hannah Cvancara, below-knee amputation from birth deformity, pursing nursing career.
"Dee's book is, insightful, comprehensive and encouraging; a fantastic source of information and hope for amputees and those who support them. Sharing her experiences as a nurse, and as an amputee herself, Dee illustrates that with the right perspective the loss of a limb is a challenging transition, but is not the end."
Dan Broome, Above knee amputation from trauma, Project Manager for Grading & Demolition Co.
Now at Helping Hands Press